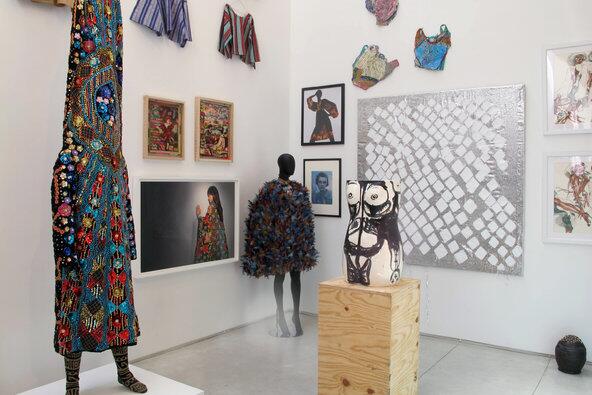 What do Yoruba costumes, Cindy Sherman, and giant sculptural sunglasses have in common? They're all part of a new installation put together by fashion designer Duro Olowu (he doesn't use the term curated).  It all started with his mother.
The British designer's mother was Jamaican, but her often self-created outfits were a mix of traditional Yoruba design and her own inventions.  One element of the show is a history of Yoruba tops from around 1920-80.  As Olowu is part-Nigerian, these traditions are part of his background.
The designer's own fashion creations often have a "collage" quality, fusing traditional and modern fabrics and styles.   He has a "stash" of vintage fabrics, both European and African, which sometimes sews into his couture dresses.   An example below: vintage Abraham Ltd. fabrics are one of his favorites.
In the installation at Salon 94 Bowery Gallery,   the designer combines his own collected  capes, vintage Yoruba textiles and costume, vintage and contemporary jewelry and ceramics with works by established and emerging artists including Theaster Gates,  Glenn Ligon, Rachel Feinstein,  Kate Daudy,  and Sylvie Franquet.
" I am given the freedom to "mess" — find things I love and create an assemblage of fashion, art and objects," said Olowu about the show.   " I mess things up a bit and mix other work with my fashion while respecting the integrity of all the work in the show."
The show "More Material" runs through August 1, 2014 at Salon 94 Bowery.  I was hoping to get through this post without mentioning that Olowu is married to Studio Museum director, Thelma Golden,  but at least I haven't mentioned any of the famous women who wear his dresses.    So  I've shown some restraint as a serious blogger  on the art of collage.
CREDITS:  Photos by LinYee Yuan,   The  New York Times